This time of year makes me reflect on the past 12 months. There certainly has been a lot of activity dedicated to animal welfare in Houston this past year.  It felt like a never ending battle was waged for the very lives of the thousands of animals who enter Houston's shelters. Although, it feels like this year has just flown by, I also feel battle weary.   To gear up for next year, it helps me to look back and remember what we have accomplished this past year. 
Advocates have spoken out loudly and in great numbers to make Houston city leaders aware that we are sick and tired of the killing at BARC and we refuse to stand by and watch it any longer.  We have written letters, called, faxed and emailed hundreds of times.  We have protested outside of city hall and we have gone to city council sessions and spoken to city leaders.   Our voices have been heard as one city council member commented that they had received far more mail about BARC than any other city issue. 
Since we began speaking out for the animals, an ineffective Bureau Chief has been fired;  unqualified and uncaring vets and vet techs have been fired;  abusive kennel attendants have been fired.  In years past, the mayor and city council have completely ignored citizens' complaints.  Last year, the mayor and "some" city council members got up and left the room while animal advocates spoke at city council sessions.  But, during the Houston elections this year, two mayoral candidates issued position statements on BARC issues  (and those two candidates also made it to the run-off election).  Mayoral, city controller and city council candidates answered questionnaires from No Kill Houston and Noah's Ark PAC.  During the debates on live television, the mayoral candidates answered questions regarding their plans for BARC.  All of these things occurred because you, citizens and animal advocates, demanded that the city make this issue a priority. 
No Kill Houston, Frisky Paws Rescue and several other rescues groups organized a big "adoption extravaganza".  We almost emptied the two free roaming cat rooms because we pulled so many cats.  We pulled all TWENTY SEVEN "90 day" cats from BARC and brought them to the event, along with dozens of other cats.  We had been assured by BARC that if we brought any of the 90 days cats back, they would be killed.  The community came together and worked hard to make sure  that didn't happen… some BARC kitties and I even ended up on TV!   Click here to watch:  http://rev.ms/247   Over that weekend, 15 cats went to new homes and the rest of the 90 days cats went to foster homes and rescues.   We proved that adoptions in a high traffic, highly visible location is key to adoption success.  Our happiness was short lived, however, when we learned that Elena Marks and Gerry Fusco planned to convert the two, newly emptied, free roaming cat rooms into office space, a computer room or a clinic.  This meant cats at BARC would have less room to live than before.  Two steps forward, one step back… 
In December, the city also announced plans for a new "animal campus" including an adoption center.  Although, it is welcome news that the city is finally spending additional money to benefit animals at BARC, the location of the planned facility (2999 Wayside) is very simliar to BARC's current location (3200 Carr).  Click here for pictures and description of the area: http://rev.ms/248  It is also in a zip code in which BARC picks up the most cats.  Considering these factors and that it is not in a high traffic nor highly visible location, this effort seems like more of the same that we've seen from the current administration over the years.   At the Wayside press announcement, Bill White took the opportunity to take one last shot at the animal advocates who have been asking for change.  http://wp.me/pGbf7-1W.   I sincerely hope citizens and advocates receive better treatment from  newly elected mayor, Annise Parker in 2010 and in years to come.
This past year we have educated citizens on what is possible… that stopping the killing in our shelters is not just a far off dream but a reality that is occurring all over the U.S. and in other countries.  Last year and this year we gave the mayor and every city council member a copy of Nathan Winograd's book so they could see for themselves that No Kill is possible; we brought Winograd to Houston for a "Building a No Kill Community" seminar and gave free tickets to the Mayor, the city controller and all city council members as well as the Directors of every kill shelter in Houston and those in other counties and cities; we helped persuade city bureaucrats to finally, after 6 months, sign Winograd's contract so he could assess BARC–this happened because citizens continued to demand it;  we have talked to hundreds and hundreds of people about No Kill at the dog show, dog parks, local events, home owners associations and civic clubs; we've been on the radio with Winograd numerous times educating the public regarding the No Kill model of sheltering;  we've been in the media–radio, TV and newspapers;  we've run ads in Best Friends magazine, local magazines, newspapers and are on every social media website; we've had billboards up several times in various areas of Houston.  Together, we are making all 2.2 million Houstonians aware that shelters CAN stop the killing. 
Although there have been many ups and downs, together we have made progress for the voiceless animals at BARC.  But there is still much left to do.  There is a new General Manager at BARC and I'm sure that your wish for 2010 is like mine, that he is a person who is dedicated to saving all healthy and treatable pets at BARC.  If he is, we should support him and his efforts.  But, if he is mired in bureaucracy and content to let the killing continue, then the fight must go on. 
My wish for all of us is that 2010 brings many more animal lives saved in a No Kill Houston.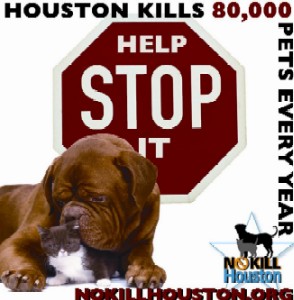 Unfortunately, the cost of fighting for Houston's shelter pets is not cheap.  Please help us in our quest to make Houston a No Kill city. Your support will help us fight for Houston's voiceless.  We couldn't do it without the compassionate animal lovers and advocates.
You can donate thru Paypal (www.Paypal.com); the email address is NoKillHouston@yahoo.com. 
or you can mail donations to:
 No Kill Houston 11152 Westheimer #841 Houston, TX 77042
 *No Kill Houston is a 501(c)(3) non-profit.